<< Back to Photo Album | < Previous Page | Next Page >
Photo-narration of 2010 Events, page 1
Birthdays
January
This year January was a month of big birthdays.

Mid-month was our friend Tina's daughter's first birthday. Our birthday present to Kaleah was a homemade tree/clematis growth chart with picture frames. Maya painted the growth chart after seeing somewhat similar projects online. It was easier said than done, but it turned out really nice.





At the end of the month, Maya's grandma turned 90 and we drove down to the LA area for her birthday party. It is becoming a ritual to eat breakfast at Roscoe's House of Chicken'N Waffles when we go to Pasadena to visit Ty, and on this trip we noticed that there is a KFC next door. I couldn't resist capturing that photo. Shown in the pictures from the birthday party are 1) Maya's grandma Linda, her aunt Teri, and brother Ty, and 2) Mike and Maya with grandma.


---
Valentine's Day Girl's Night Out
February
This year the Trockadero de Monte Carlo performed at the Mondavi Center at UC Davis on Valentine's Day. What better invitation for a girl's night out? Maya was joined by Tina, Teri, Marlene, Chana, and a friend of Chana's. It was AWESOME!

The Trocks are male ballet dancers in drag dancing all of the parts (male and female). It's both great comedy and impressively beautiful art, especially when you consider that the guys had to learn how to dance en pointe. One of the dances was part of Swan Lake, danced by all men.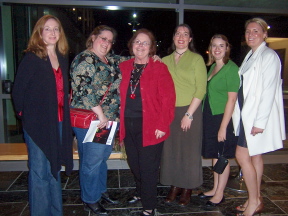 ---
RIP Jim Sheldon
March
Mike's father, James Sheldon, passed away in March after a bout with esophageal cancer and complications.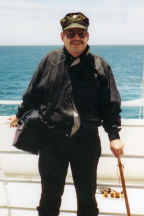 Born November 26, 1939 in Sacramento, CA, he died peacefully in his sleep on March 19,2010, surrounded by his family. After growing up in Marysville, CA, he proudly served his country in the US Navy, retiring with the rate of Chief Petty Officer of Preventive Medicine. Settling in Sacramento, he worked for the County for 20 years as a water treatment engineer. He retired to fully enjoy his lifelong enthusiasm for military history, science fiction and, more recently, supporting the CSUS Newman Center, where he was a parishioner.

As a father and friend, he strongly advocated hard work, reading and learning, and was never hesitant to educate or impart knowledge about a wide variety of topics of which he spent a lifetime accumulating. James had a tremendous Irish sense of humor and storytelling, and instilling in his children the importance of such. He loved animals, particularly cats, and more than once used his Navy medical training to aid injured pets.

James is survived by his wife Marlene, his brother David of Colorado, daughter Theresa of Rancho Cordova, son John of Sacramento, son Michael (Maya) of Fair Oaks, and numerous nieces and nephews.

"I thank you much."


---
The Summer We Finally Bought a House
June through August
We found out in late March 2009 that our former landlady was going to be foreclosed. In June 2009 we started looking at houses, and in late June 2009 made our first offer on a house. Fast forward to June 2010 after making several offers, and coming oh-so-close on one short sale, and we finally were oh-so-close on another short sale. We had put down the deposit beforethe short sale was officially approved by the bank because Maya was afraid that the short sale approval would come right after the deadline to be in contract for the tax credit. Sure enought, the official short sale approval happened on May 3 (had to be in contract by April 30). So now it was all on our bank to close by the end of June to qualify for the tax credit. And of course, with lots of drama (Lots! If you didn't have to suffer though our venting about it, be glad), we finally closed on...July 2! (Luckily the tax credit did get extended.)

So July and August were devoted to saying goodbye to the old house...


---


...inspecting the new house (photos taken the day we officially closed on the house)...




---


...and getting the new house move-in ready. Since the house had been sitting vacant for about two years, that meant thoroughly cleaning EVERYTHING, and replacing the carpets (for that drama, see Maya's blog, as there are several posts about flooring etc.). We didn't replace any of the existing tile floors, and postponed stuff like painting until later. We just wanted to replace the flooring before moving in all of our furniture. Maya got to help install the cork, and got some fun photos in the process.




---


The night before we moved in we had a Smudge Ceremony to purge any negative energy lingering in the house and start our home with positive energy. Maya designed the ceremony, making sure to incorporate all of the elements. Our friends and family gathered together in the new space after it had been (mostly) cleaned and a few hours after the carpet installation was finished.



Then Maya started smudging the house, with the help of Mike's sister Teri and our friend Tina. The smudging involved walking throughout the house, filling each room with the cedar and sage smoke from a smudge stick and the ringing gong of a Tibetan singing bowl.



Since the smudge stick was going strong, we even did the garage and the back yard. Instead of smudging the entire front yard, we left the smudge stick in the entry to burn itself out. Didn't want the neighbors to be too worried about the new people, after all.



After smudging, we had an indoor potluck picnic in the living room with everyone gathered. For Maya at least, the ceremony worked perfectly. Before the ceremony she was still grossed out by the house and really uncomfortable with the idea of actually moving in, but by the time the ceremony was over she was ready to make it her home.


---
Continues next page.