<< Back to Photo Album | < Previous Page | Next Page >
Sheldon/Key Wedding
6 October 2007
After Party with Friends
One thing about an afternoon reception is that it leaves the evening opening for more of whatever. In this case, several "after parties" were spawned. The Key family (Maya's paternal family) all went out to Old Sacramento together, the Anderson family (Maya's maternal family) had their own mini-party at their hotel, the Stephens family (Mike's maternal family) had a relaxed party at Bob and Jen's house, and our friends joined us at our house.

Just about veryone went home/to hotel right after the reception to rest and change clothes. Since Corey had chauffeured us to the ceremony in the morning, and since he and Howard were enjoying wearing their kilts, they stayed and hung out with us during the quiet time. During the quiet time, we went through all of the cards and gifts that we had received. Thanks everyone for your generous gifts!! They made the mini-moon and honeymoon fantastic and nearly care-free experiences.

Slowly, more people trickled in including Ty, Carmela and Michael, and Chris and Eugenia. Trisha arrived bearing the food trays for the After Party, and if I remember correctly Sarah P and Brian were with her.

We owe Trisha a huge Thank You for serving as our mistress of ceremonies (assisted by Sarah P and Brian). We tried so hard throughout the planning phase to not Plan a Wedding, that we really weren't all that organized. A lot of stuff was rather last minute, and Trisha was great at putting up with that. Without her work, the ceremony and reception would not have moved along smoothly, and setting up the after party would have been a challenge.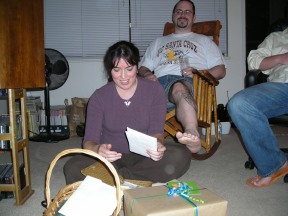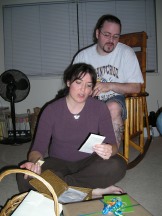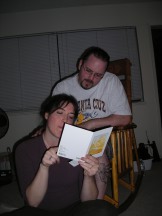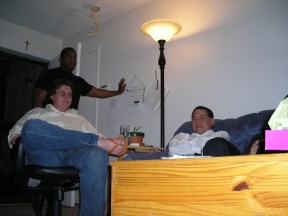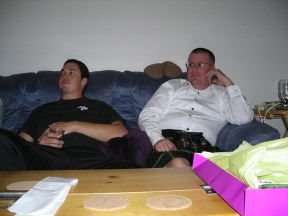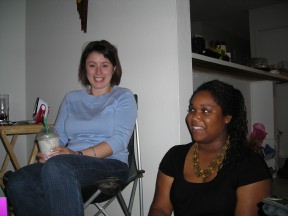 Then people really started coming in, and the house got very crowded. The after party was crazy fun. Of course any time you are surrounded by good friends and good food, good times will be had. We don't have any pictures from the party itself (we were so crowded, it wasn't really an option had anyone even thought to try to take pictures); but we do have a couple pictures showing just how exhausting this wonderful day was...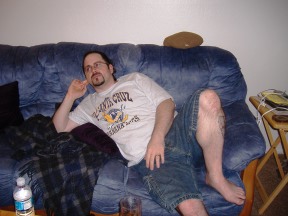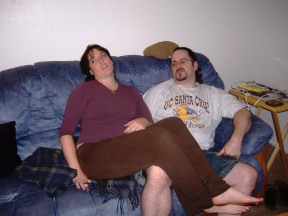 << Back to Photo Album | < Previous Page | Next Page >


Photos taken by Annie Smith, and Carmela and Michael Chavez-Liberman.