<< Back to Photo Album | < Previous Page | Next Page >
Sheldon/Key Wedding
6 October 2007
Wedding Reception, Dinner
We tried to limit the time spent with the professional photographer between the ceremony and the reception, but it still felt like forever before going inside. There are lots of really great photo spots at Arden Hills, and we did get a few good photos from it. (Note: for anyone in the Sac area, we do NOT recommend using Arden Hills for an event)

We made our entrance to the opening music for the movie Conan the Barbarian (one of Mike's all-time favorite movies), which is really quite dramatic.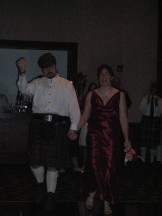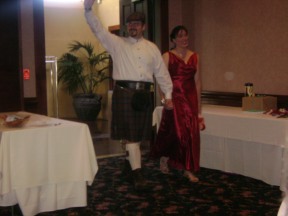 We sat down briefly (snap, snap)...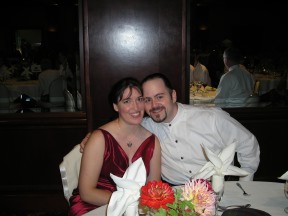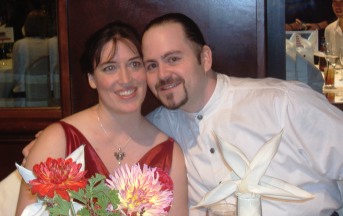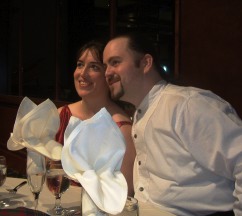 ...and then got up to have dinner. We hadn't actually planned the starting-the-dinner-line so it was a realization that we needed to do that. Hopefully it wasn't too long of a wait for all of our guests. The dinner (buffet) went better than we thought. Arden Hills has international buffets available but since we couldn't pick one, we mixed and matched our way to a French-Indian-Mexican buffet. And since you can't do tastings of the international buffets, we had no idea what to expect. Dinner was good, and courtesy of my friend Sarah P, I had a Fabulous (a drink invented by a friend at the U of Michigan) to go with it.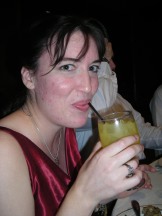 After dinner was time for cake! The cakes were white chocolate raspberry cheesecake and my mom made the tattoo toppers (isn't she awesome?!). The toppers are tracings of our engagement tattoos done in chocolate royal icing and jam. There's a subtle difference between the two tattoos. Mike's sun has a yellow corona with orange flares (cake on the right) and Maya's sun has a pink corona with yellow flares (cake on the left).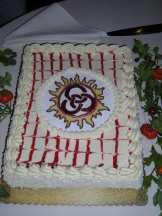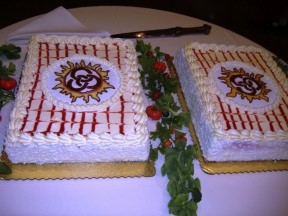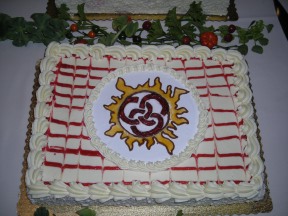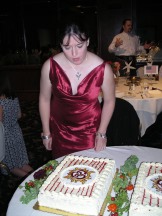 We did the first cut with Mike's Celtic seax (which had been thoroughly cleaned beforehand to remove the oils). Before making the cut, Mike demonstrated the dagger, and I think I recall doing some QVC-style hand waving for some odd reason (notice the blurry hands).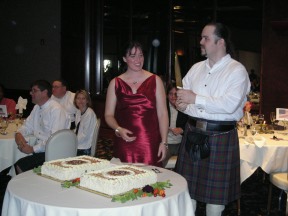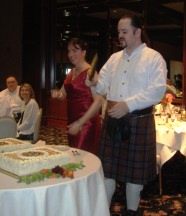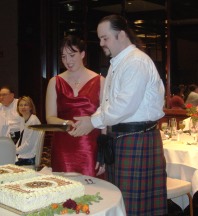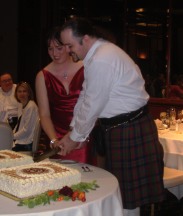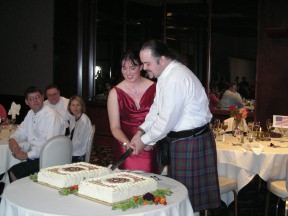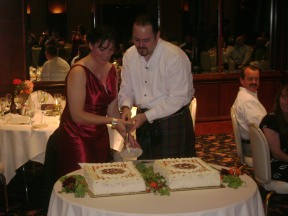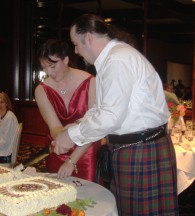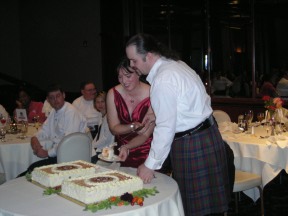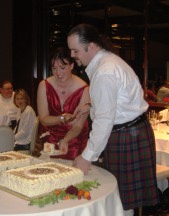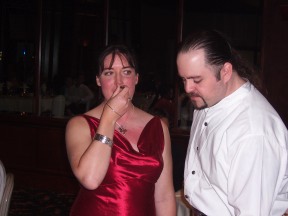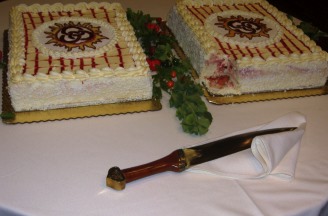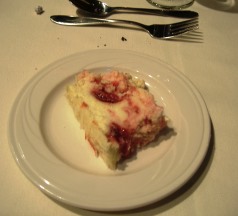 Man that cake was good! And we are very thankful to all of the people who ate more at the afterparty and then took some home. We would never have managed to finish those cakes otherwise!

After we did the first cake slice, and the cakes were whisked away for serving, came the whiskey toast (although most people traditionally toasted with champagne). Mike's best man, Corey, gave a really good toast. Carmela (Maya's matron-of-honor) essentially did her toast at the rehearsal dinner. She also thought she wouldn't make it through a toast without crying. As a result, the whiskey toast was short and sweet (and tasty: the whiskey was Balvenie 12 yr Double Wood)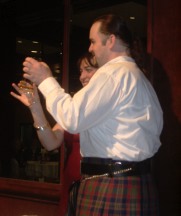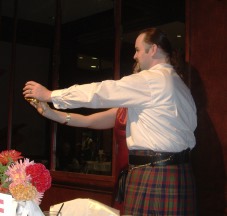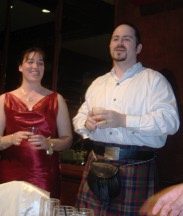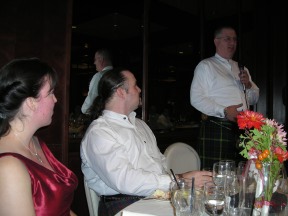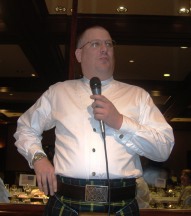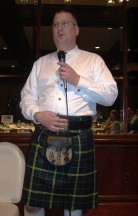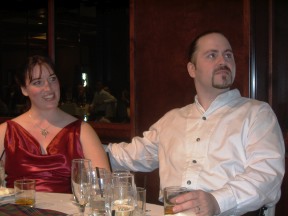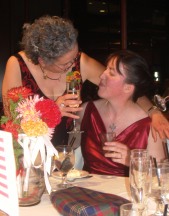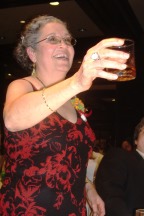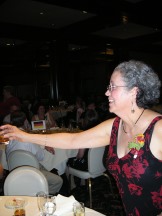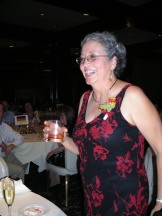 During and after the toast, I drifted away from the table, and my slice of cake. After a while I had to "sneak" back because I was afraid that my cake would be taken away. (I didn't realize that we would have almost an entire sheet left over.) It's funny how much a difference camera angle makes when telling a story: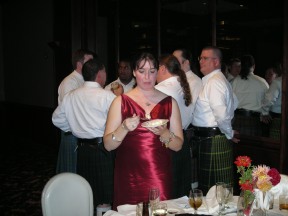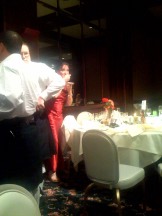 Continued next page...
<< Back to Photo Album | < Previous Page | Next Page >


Photos taken by Marlene Sheldon, Carmela and Michael Chavez-Lieberman, Eugenia Williams, Annie Smith, and Bill and Margaret Rapp.